inventory
Our inventory is vast, and we buy and sell new guns every day. As a result, we do not offer a public list of all available products. However, we are always happy to answer questions about specific guns by phone, email or Facebook message. We share highlights from our inventory on Facebook, and in the feed below. If we don't have the gun you're looking for, we will try to find it for you. Fill out a request form for a specific firearm
here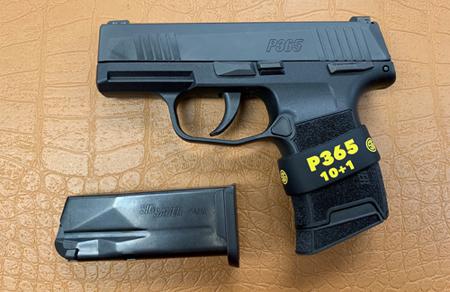 Make/Model:
Sig Sauer P365
Caliber:
9mm
Additional Info:
Massachusetts compliant version of all new Sig Simply the best everyday carry 9mm handgun available. Flush fit and pinky rest mags included.
Price:
$549
---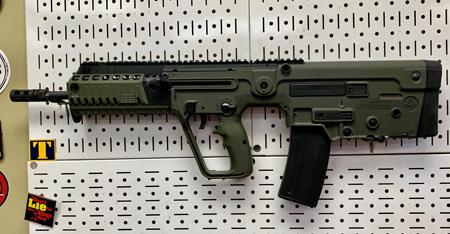 Make/Model:
IWI Tavor X95
Caliber:
5.56
Additional Info:
Excellent bullpup rifle in desirable ODG. Comes with compliant muzzle brake and your choice of ten round magazine. Pre-ban 20 and 30 round magazines also available.
Price:
$1800
---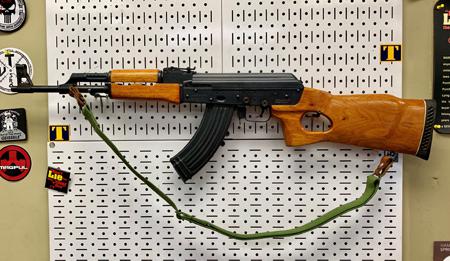 Make/Model:
Norinco MAK 90
Caliber:
7.62 X 39
Additional Info:
Pre-1994. Straight cut receiver, high polish blue, excellent pre-ban AK rifle. Includes one flat back, pre-ban 30 round mag.
Price:
$1200
---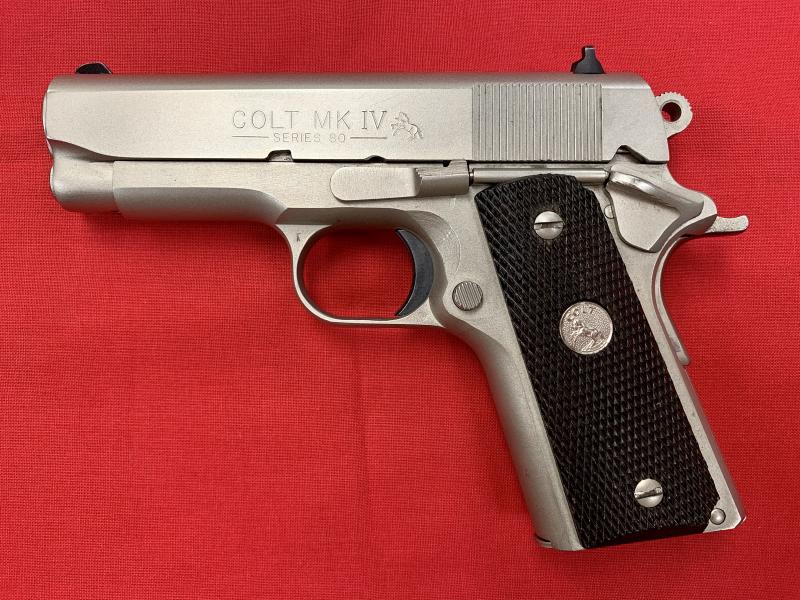 Make/Model: Colt '80s Series Officer Model

Caliber: .45 ACP

Additional Info: Produced for one year only (1985). Rare satin finish.

Price: $999
---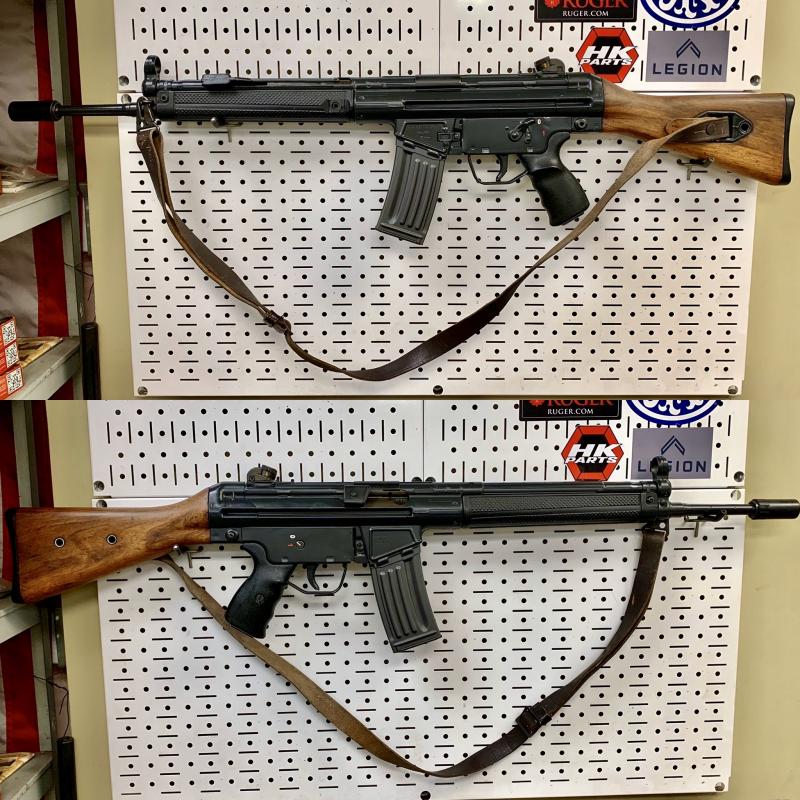 Make/Model: H&K 93

Caliber: .223/5.56

Additional Info: Excellent condition. Comes with pre-ban 25 round mag, sling, and black polymer factory stock. Made in 1981.

Price: $2899
---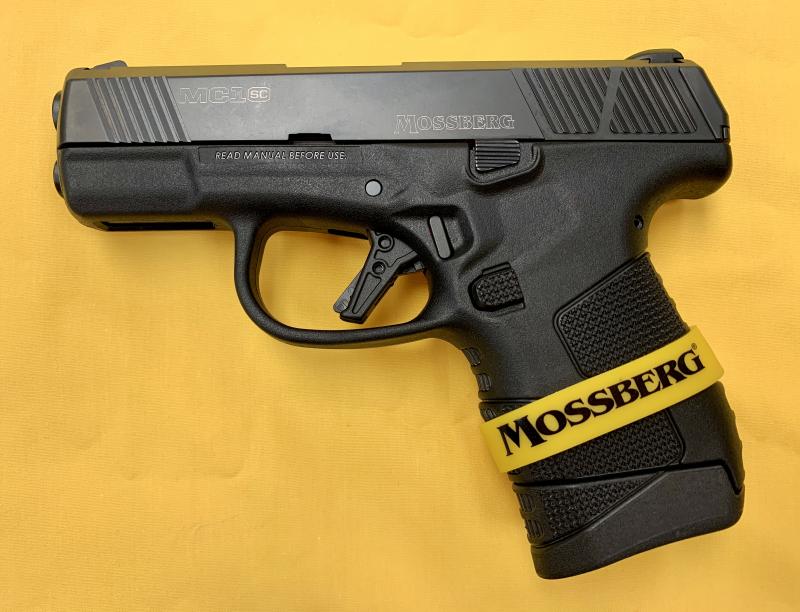 Make/Model: Mossberg MC1sc

Caliber: 9mm

Additional Info: Mossberg's first pistol in 100 years! Comes with two mags (pinky rest and flush fit). Great striker fired carry piece at a nice price.

Price: $369
---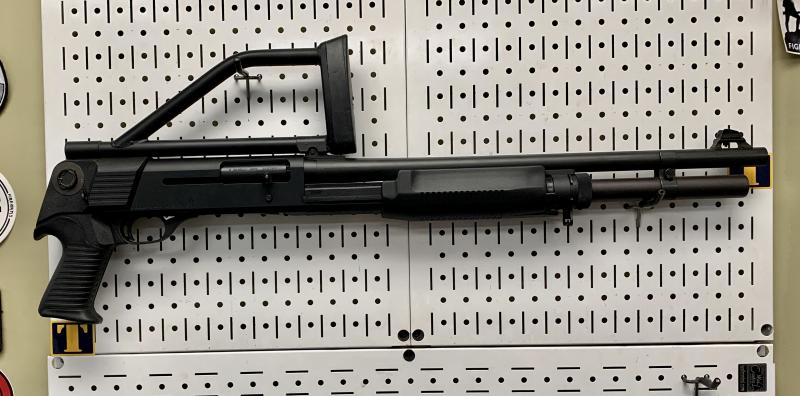 Make/Model: Benelli M3T

Caliber: 12 ga

Additional Info: Top folding 12 gauge shotgun. Can be configured as pump or semi automatic. Less than 300 imported to the US - mostly used by law enforcement and SWAT. Quality investment piece.

Price: $1849
---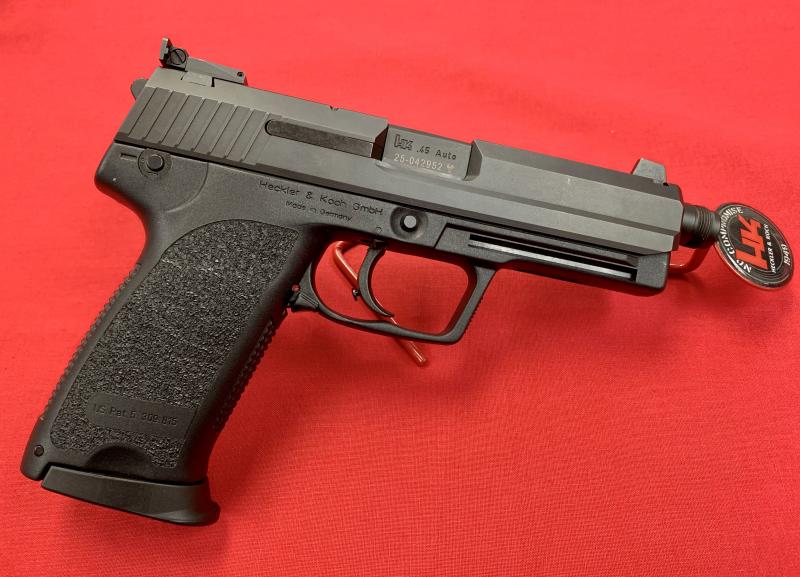 Make/Model: H&K USP Tactical (1998)

Caliber: .45

Additional Info: KI prefixed, unfired. Comes with all papers, tools, and factory nylon case.

Price: $1599
---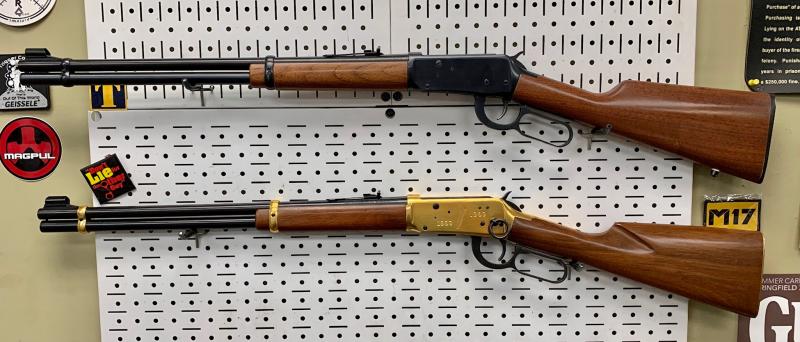 Make/Model: Winchester 94s

Caliber: .30-30

Additional Info: Two Winchester 94s in .30-30
Top: 94 AE (Angle Eject)
Bottom: 1869 - 1969 Centennial Golden Spike Commemorative Model

Price: $499 each
---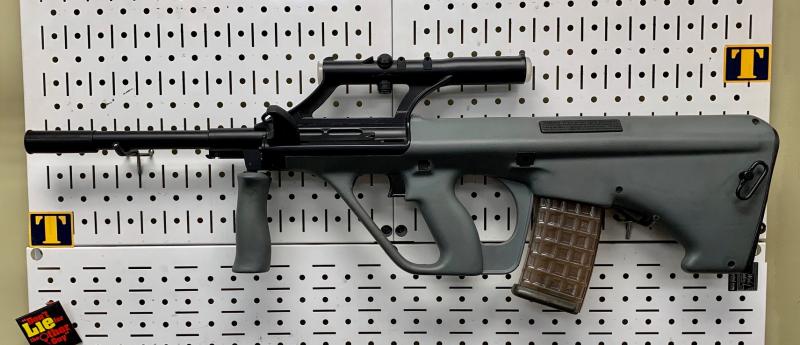 Make/Model: Pre-ban Steyr USR

Caliber: .223/5.56

Additional Info: Unfired. Comes with box, papers, one 10 round mag and one pre-ban 30 round mag.

Price: $2699
---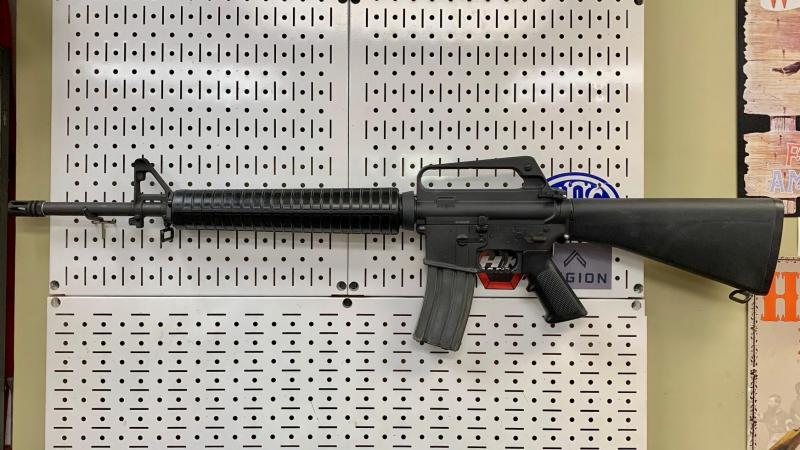 Make/Model: Colt AR-15 A2

Caliber: .223/5.56

Additional Info: Pre-ban, green box rifle with bayonet lug and flash hider. Twenty inch barrel, no sear block. Comes with pre-ban 30 round magazine.


Price: $1750
---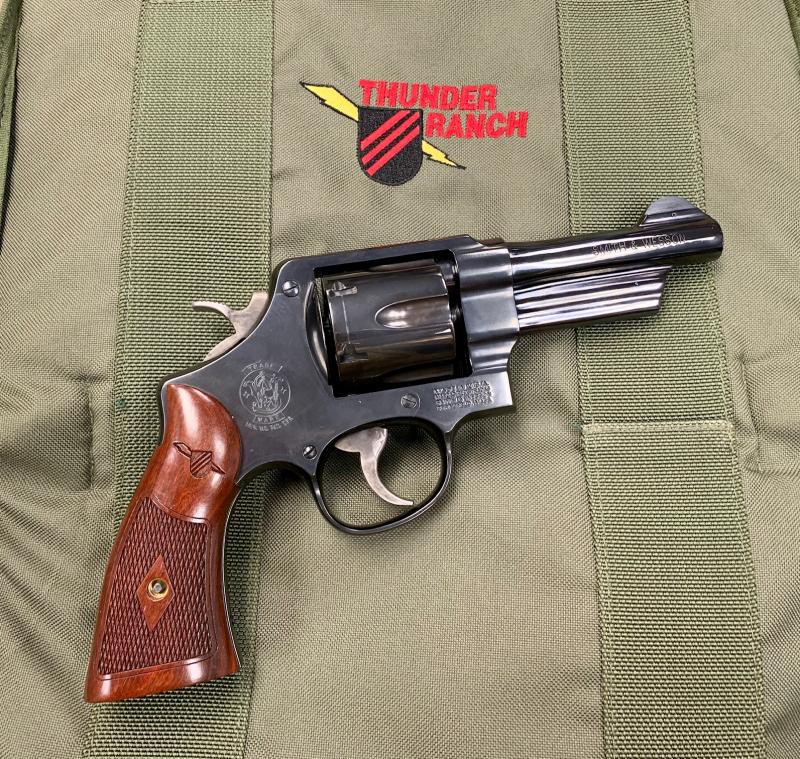 Make/Model: Thunder Ranch Model 1950

Caliber: .45 ACP

Additional Info: Like new, believed to be unfired. Utilizes half moon clips. Comes with pictured demo carrying case. Also referred to as Model 22-4.

Price: $759
---

Make/Model: KelTec KSG25

Caliber: 12 ga

Additional Info: Tactical pump shotgun featuring 25 round capacity with 2 3/4 shells, over 30 with Aguilla mini shells.

Price: $1199
---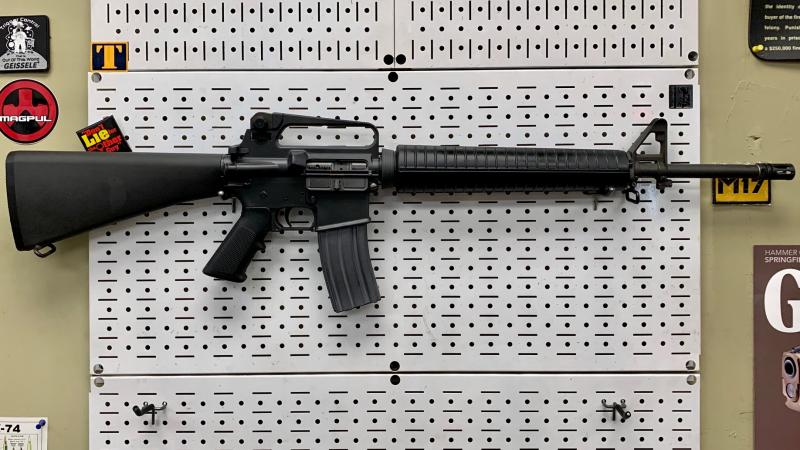 Make/Model: Pre-ban Colt AR-15 Govt. Model

Caliber: .223

Additional Info: Pre-ban, 20 inch H-bar model AR-15 in excellent condition. Green box configured with bayonet lug, flash hider, and no sear block. Rare slab side A3 rear sight. Less than 5000 produced!

Price: $1799
---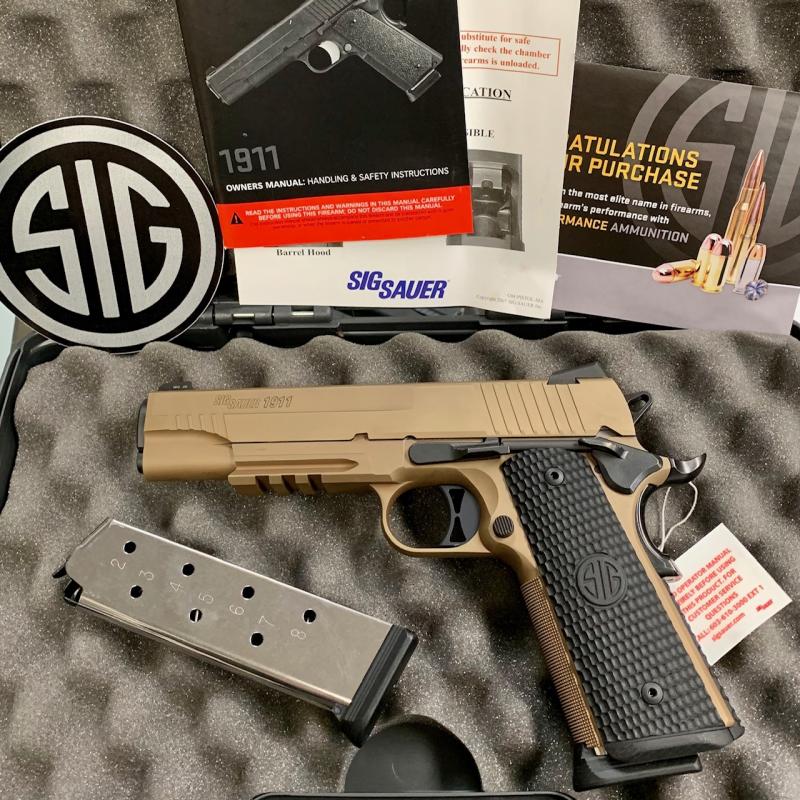 Make/Model:
Sig Sauer 1911 Emperor Scorpion
Caliber:
.45 ACP
Additional Info:
Hard to find, high quality custom 1911 in unique FDE PVD finish. Priced well below Sig MSRP ($1,200)
Price:
$999
---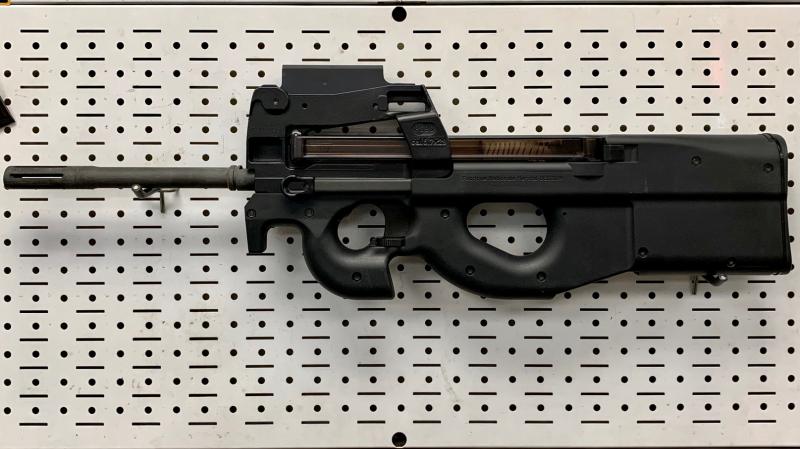 Make/Model: Fabrique Nationale PS90 Bullpup

Caliber: 5.7 x 28 mm

Additional Info: Early serial number rifle with US Secret Service optic. Later style, gen 3 trigger pack. Unfired, with box and papers. Easy shooting, zero recoil bullpup.

Price: $1559
---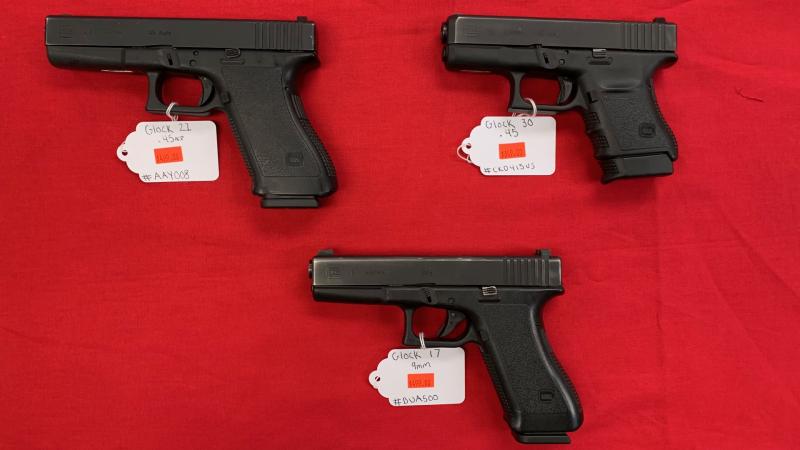 Make/Model:
Pre-ban Glocks
Caliber:
Assorted
Additional Info:
Glock 21 in .45 ACP, $499
Glock 30 in .45 ACP, $649
Glock 17 in 9mm, $499
Massachusetts compliant, pre 10/98 Glocks in .45 ACP and 9mm. ***Please note Massachusetts does not allow FFLs to sell new Glocks, so these are the only kind of Glocks civilians can purchase in MA!***
Price:
$499 - $649
---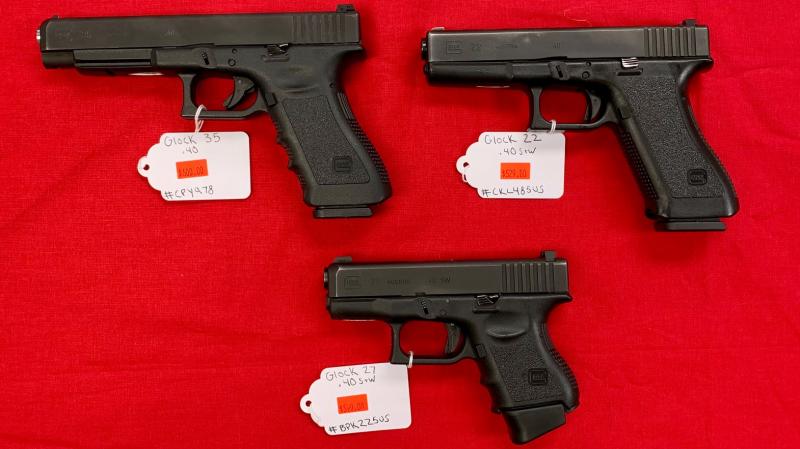 Make/Model:
Pre-ban Glocks
Caliber:
.40 S+W
Additional Info:

Glock 35 in .40 S+W, $600
Glock 22 in .40 S+W, $529
Glock 27 in .40 S+W, $599
Massachusetts compliant, pre 10/98 Glocks in .40 S+W ***Please note Massachusetts does not allow FFLs to sell new Glocks, so these are the only kind of Glocks civilians can purchase in MA!***
Price:
$529 - $600
---

Make/Model: Rossi R92 Rifle

Caliber: .357 Magnum

Additional Info: Stainless steel, all weather finish. Shoots inexpensive .38 special as well as .357 magnum. Great hunting and target plinking gun.

Price: $619